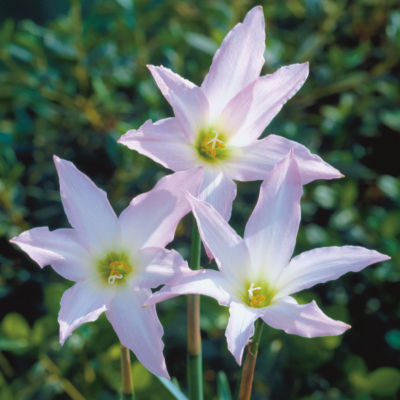 Zephyranthes sp. 'Labuffarosa'
Quickly forms big, beautiful colonies! For Fall Shipping View Shipping Details Growing Zones: 7 - 10 Sun Exposure: Full Sun Ship Form: Bulb Bloom Season: Early Summer to Early Fall
The largest-flowered Rain Lily on the market, this Rain Lily is an easy-to-grow bulb that bursts into bloom with every hard rain. It may be heavily watered 4 days before a heavy showing is desired. Blooms are about 4" wide, brilliant lilac-pink, on 10-inch stems on plants that quickly reach a foot wide, then keep multiplying for a more gorgeous show with every passing season. Foliage is grass-like and dense. Tolerates drought, heat, humidity, and poorly fertile soil A fine container plant, also works well in rock gardens and in xeriscape plantings.
Hippeastrum 'Evergreen'
Amaryllis 'Evergreen' Botanical Name: Hippeastrum 'Evergreen'
By far the richest-colored and most beautiful green Amaryllis ever grown.Growing Zones: 8 - 11 Sun Exposure: Part Shade Ship Form: Bulb Seasons of Interest: Winter
Blooms are very long-lasting, with long, slender, slightly recurved petals of lime-green, darkening toward the center, several to a stem on sturdy, compact plants that need no staking. Offers unique winter holiday decoration with poinsettias and other decorative winter flowers and greens.