Taxodium distichum 'Cascade Falls'

10'-15' H ; Zones: 4 - 10; Part Shade to Full Sun; Ship Form: Trade Gallon (3qt)
'Cascade Falls,' is on University of Florida's under-utilized trees list. While billed as a very weeping cypress, some botanists may go so far as to call it prostrate mounding. Its habit is flat and spreading, making it desirable for spilling over rock ledges. To obtain a small very weeping tree, a leader is staked upright and branching allowed to hang to the ground. Very desirable as a pond accent tree, this variety of Taxodium distichum, a cypress native to Florida wetlands, was discovered in New Zealand and patented by Monrovia Nursery.
---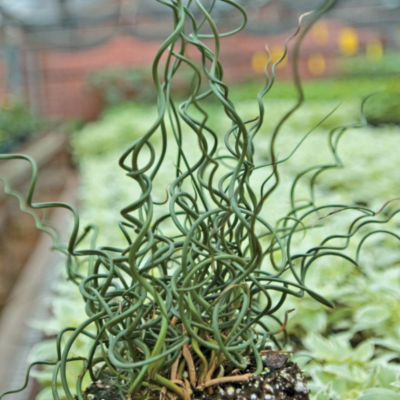 8/23/2008 Plants for Moist Sites
Juncus effusus 'Unicorn'
What a great cultivar name! The University of British Columbia Botanic Garden put a new twist in the rush Juncus effusus which occurs naturally throughout most of Florida in a straight form, Juncus effusus subsp. solutus, or "soft rush." This is a good plant to use as an accent at the base of a fountain or near a water feature which keeps the surrounding soil too damp for other plants, though in strong light. Maturing at 1'-2'H, 'Unicorn' is also valuable for use in indoor cut flower and foliage arrangements.